WELCOME TO ROONEY FEEDS' EQUISTATION
Hungry Birds?
Rooney Feeds Ltd. has your bird seed!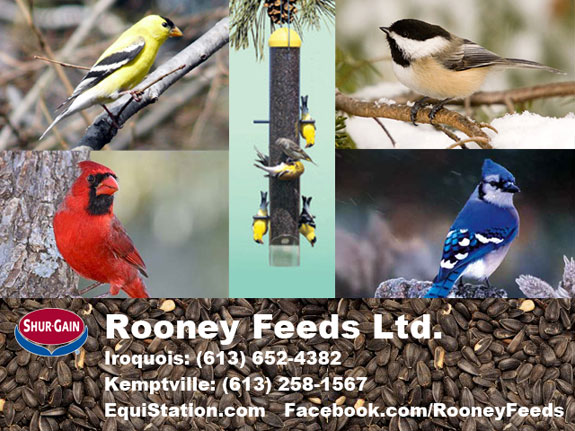 Fresh new crop of black oil sunflower or striped sunflower seed, just $23.60 for 50 pounds. Rooney's coarse bird seed, food for finches and niger seed also now on special.  While you're here, get them a nice new bird feeder for Christmas, and keep them singin'.

Visit us at our Iroquois store—open until noon Saturdays or our South Gower—open till 4 Saturdays.

Sale ends December 8th.

Like us on Facebook!

Listen to the latest radio ads:
Radio Ad #1
Radio Ad #2
---
Eastern Ontario Horses of Course
Thank you!
The Eastern Ontario Horses of Course Club would like to thank all the Consignors, Buyers, and Volunteers who supported us once again this year to make our Annual Tack Sale a success. We would especially like to thank Rooney Feeds Ltd. and Farmer's Sealed Storage for their continued support of this endeavour, by helping in advertising the sale on Equistation, Consignment forms and the use of their building.

EOHC
Ken & Linda Reid
Equistation - Newer and Better!
Rooney Feeds is excited to announce the first phase in our Equistation makeover.
New Classifieds - expanded options for highlighting your ads, including more photos, video and space ads
New Equistation Community - our expanded directory includes a Rooney's client directory - our way of saying "thank you" to your business for supporting ours.
We have taken great care to transfer data between the old and new web sites, however information may not match the expanded categories exactly.
We urge you to review your listings and update as necessary.
There is more to come - confirming that Equistation is, indeed the place where Eastern Ontario meets on the web.
Thank you for your support.
The Rooney family and team
---
Equistation is Rooney Feeds online – a meeting place for our customers and the agricultural and equine network throughout Eastern Ontario.
Rooney Feeds is your local source of feed, seed and supplies. We have served the agribusiness, hobby farmers, bird lovers and the equine community for almost 50 years.
---
Kemptville Store: 3 Industrial Road at South Gower Drive — 613-258-1567
Iroquois Store & Mill: 40 Dundas Street — 613-652-4382